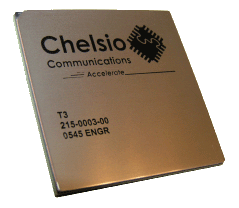 The Terminator 3 ASIC
Introduced in 2007, the Terminator 3 ASIC is Chelsio's third-generation 10Gb Ethernet Unified Wire Engine for iSCSI, RDMA and TCP/IP applications.
The T3 is a scalable, high-performance 10Gb Ethernet unified wire engine, enabling simultaneous support of iSCSI, RDMA and TCP/IP sockets applications. A third-generation design, it builds upon Chelsio's robust and field-proven Terminator 2 engine which has been widely deployed in server, storage and clustering interconnect applications.
---
Highlights
High-performance server adapter, TCP/IP offload, iSCSI and RDMA
Integrated traffic manager, QoS and virtualization capabilities
Integrated PCI-X 2.0 266MHz and PCI-Express x8 host bus interfaces
Integrated two 10Gb full-duplex Ethernet and two 100Mb/1Gb Ethernet MACs
Support for additional external MACs
Extensive system management interfaces including I²C, SMBus and IPMI
Line-rate 10Gb full-duplex performance
Powerful per-connection, per-server, and per-interface configuration and control
Scalable to one million simultaneous connections