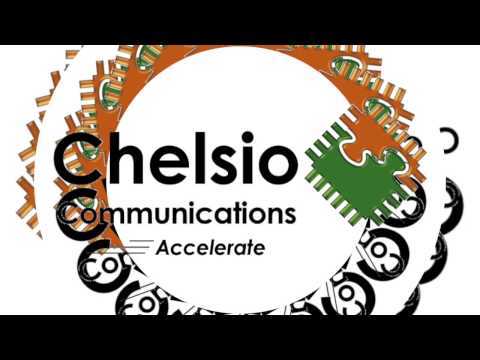 13 min
Chelsio @ Microsoft Ignite Collage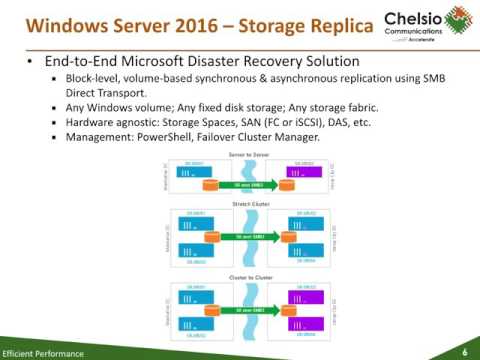 10 min
Chelsio iWARP for Microsoft Windows Server 2016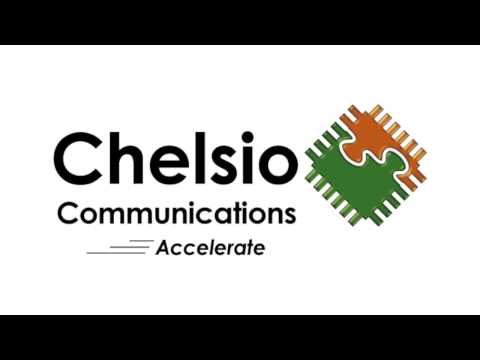 2 min
Storage Spaces Direct (S2D) @ 100 Gb/Sec
"This technology demonstration highlights how Storage Spaces Direct, combined with advanced flash-based storage connected by Chelsio's 40GbE iWARP networking solution, helps users build faster, easy-to-scale and reliable storage for their private cloud deployments,"
- Erin Chapple, partner director of program management, enterprise cloud group, Microsoft Corp.
"Windows Server 2016 and System Center 2016 offer our most cloud-ready server operating system ever, with exciting new innovation to help you transform your applications for the cloud, build a software-defined datacenter with cloud efficiencies and keep your IT safer than ever. The complementary solutions and services from our partners are what truly brings the innovation to life for our customers as they transform their IT solutions for the cloud-first world."
- Erin Chapple, Partner Director, Program Management for Windows Server, Microsoft
"iWARP is the ideal high-performance RDMA over Ethernet solution for Microsoft Client environments and allows the utilization of existing Ethernet infrastructure and reduces the complexities and costs commonly found in other RDMA protocols"
- Philip Moss, CPO, Acuutech, a UK-based service provider and Microsoft Cloud OS networking partner providing cloud solutions
"Chelsio RDMA cards based on iWARP also integrate seamlessly with Storage Spaces Direct, delivering very high performance storage to Windows 10 Enterprise; meeting the demands of the highest performance applications and complex datasets, with the simplicity of iWARP."
- Philip Moss, CPO, Acuutech, a UK-based service provider and Microsoft Cloud OS networking partner providing cloud solutions
Chelsio offers one of the most comprehensive and certified adapter solutions that can unleash the full value of Microsoft enterprise and cloud installations. The Chelsio line of 1/10/25/40/50/100 Gigabit Ethernet (GbE) iWARP (RDMA/TCP) enabled Unified Wire adapters have achieved Windows Server 2012 and 2016 hardware certification, including in-box driver support.
Chelsio iWARP enabled adapters power a range of Windows Server 2016 capabilities, including Storage Spaces Direct software-defined storage, Storage Replica for disaster recovery, SMB Direct for high performance file access, Network Direct for Windows HPC deployments, hardware offloaded iSCSI initiator for SAN applications, and Nano Server for cloud applications. In addition, Chelsio's concurrent certification for Windows 10 Enterprise enables Client RDMA functions and allows the iWARP wire protocol be used on both ends of the wire. This enables high performance client-server installations using RDMA over regular TCP/IP and using legacy switches.
Chelsio iWARP adapters work with any legacy Ethernet switch, thereby enabling incremental Windows Server 2016 installations without requiring a concurrent forklift upgrade of the switch infrastructure or the entire datacenter. This ability allows the use of most cost effective new or existing switch infrastructure with the least amount of support, while enabling an immediate plug-and-play deployment. In addition, Microsoft's support of iWARP protocol since Windows Server 2012-R2 release, has allowed for years of testing for a very robust and tested deployment with Chelsio Unified Wire adapters.
Windows Server 2016 Storage Spaces Direct
Windows Server 2016 Storage Spaces Direct enables continuously available storage clusters to use local storage, unlocking new high-performance NVMe SSDs and low-cost SATA SSDs and eliminates the old requirement for shared storage enclosures. The high-performance SMB Direct protocol is used for inter-node communication over the Storage Spaces Direct software storage bus.
Chelsio 1/10/25/40/50/100GbE iWARP adapters enable high virtualized application performance by giving direct access to the data residing on hyper-converged or disaggregated Storage Spaces Direct storage, as well as higher scalability for Storage Spaces Direct. Chelsio iWARP also enables much more streamlined and simplified configuration of RDMA high-performance networking for Microsoft Storage Spaces Direct compared to other Ethernet RDMA networking alternatives.
Windows Server 2016 Storage Replica
Disaster protection is a critical requirement for business continuity and remote replication offers geographic redundancy in the face of catastrophic events. Windows Server 2016 Storage Replica (SR) enables block-level replication between clusters or individual servers. SR provides two modes of operation: synchronous replication enables mirroring of data with zero data loss at the file system level, while asynchronous replication allows local completion of I/O operations.
Storage Replica over iWARP RDMA combines high performance with the high efficiency provided by the zero-copy and CPU bypass operation of the RDMA transport, without requiring any metro extension equipment, unlike other RDMA transports. Presentations by Microsoft at Ignite 2016 showed Storage Replica over iWARP operating in synchronous mode over a 50Km fiber loop connecting two storage servers. Long distance replication was shown to provide near local access performance levels, with negligible impact on I/O rates and near zero additional latency. In addition, the iWARP RDMA transport provided remarkably stable and consistent operation.
Windows 10 Enterprise Client
The Windows 10 Enterprise Client RDMA feature provides I/O-intensive desktop applications, such as video post-production, Oil/Gas and Computer-Aided Design applications, with high speed access to Windows Server enabled by SMB Direct networking. Chelsio iWARP enabled Unified Wire adapters are first-to-market solution providing support for Client RDMA. As a result, customers using Windows 10 Enterprise for professional applications will see performance improvements while taking advantage of the ease of use and low cost of ownership of Chelsio iWARP.